LOGAN LYNN // NEW MONEY \\ 1.21.22
&nbsp
#PDX
I had a super deep conversation with Mitski a couple of years ago, just before she boarded the rocket ship to Mars, and it has always stuck with me.
She's such a powerful force, such a bright light — but also so sensitive and aware. It's a really special mix of humanity and talent that she has so generously shared with the world, and I recall just wanting to shield her from all of what I knew was headed her way at the time.
The thing about the music industry, touring endlessly, and the commodification of one's innermost self, is that the business model is very rarely centered around taking care of that individual's human needs — and for anyone even remotely rooted in authenticity, navigating this shit is exhausting.
I blew up my major label deal and the career I had spent decades building back in 2010 and it was the best decision I have ever made. That pivot is ultimately why I decided I liked music again and made it possible for me to come back as my whole self later.
As Mitski the very successful artist deletes social media, hangs up her cowboy hat, and exits the public eye to become Mitski Miyawaki the person again, I hope you will all join me in wishing her well.
These stages are forever yours, darling. They'll be here if you want them. Now go rest, feel proud, and EAT EVERYTHING.
💜💙
I quit drinking alcohol, smoking cigarettes, popping pills, shooting speedballs, doing lines of cocaine, and smoking crack 11 years ago this week.
This was my body back then. I was 6' 4" tall and weighed 137 pounds. I was sick and dying and did not care. It took years for me to learn to care, and I'm so grateful for every doctor, every therapist, every friend, every family member, every collaborator, and every stranger who cared on my behalf back when I could not.
Thank you love, thank you dogs, thank you music, thank you Naltrexone, thank you medical marijuana, thank you television, thank you pretty shoes, thank you burritos, thank you second chances, and thank you forgiveness.
I'm here for it. 🏆
Thanks to Ned Lannamann and the kids at The Portland Mercury's End Hits music blog for including my new video "Radio Silent" in this week's Video Vriday music video wrap-up. It's only been out for 3 days and already 7,000 of you have watched it!
Check out the video online at End Hits HERE or read what they had to say just below.
From End Hits: (6/13/14)
"Just in time for Pride weekend, here's Logan Lynn's latest video, for his tune "Radio Silent" from Tramp Stamps and Birthmarks. Lynn (who, full disclosure, is also a Mercury contributor) shot this with filmmaker Runn Shayo over the course of a summer tour last year with fellow queer artists Big Dipper, Conquistador, and others, and the video features clips from shows across the country and snapshots from life on the road."
(Originally Published on The Huffington Post on 1/2/2014, HuffPost Entertainment Section)
Portland's Crystal Ballroom — an iconic, historic entertainment landmark for the city since 1914 — is celebrating its centennial birthday on Tuesday, Jan. 21, 2014.
To ring in the anniversary, McMenamins Crystal Ballroom has amassed an epic, 100-night celebration, appropriately called "100 Nights!" The party has been going strong since this past October and keeps churning out banger shows nightly until the 21st, with a special performance by Colin Meloy of The Decemberists.
Any band who has ever played the Crystal Ballroom, any person who has every been to a show in that special place, holds some piece of this rich, 100-year history as their own — myself included.
This past week I caught up with Carrie Brownstein (Sleater-Kinney, IFC's Portlandia), Courtney Taylor-Taylor (The Dandy Warhols), Calvin Johnson (K Records Founder) and Jimi Biron (Music Director, Crystal Ballroom) to chat about the 100 nights of shows, what this birthday means for the NW music scene, and some of the more memorable moments from the ongoing Rock and Roll spectacle that is Portland's Crystal Ballroom.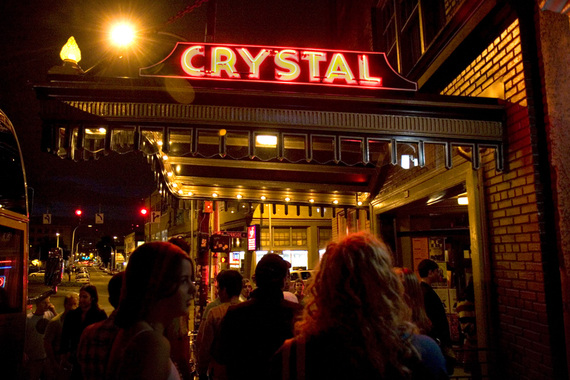 Read the rest of this entry »
(Originally Published on The Huffington Post on 5/7/2012)
I've been thinking a lot about what it means to be a hero lately, spawned mostly by my recent involvement in a project called Queer Heroes NW, created in partnership with Q Center (Portland's LGBTQ Community Center) and GLAPN (the Gay & Lesbian Archives of the Pacific Northwest). The idea behind the endeavor was to focus in on individuals who have helped shape the local LGBT movement here in Oregon and southwest Washington, honor them for making our community safer over the years, and teach a new generation about how we got here from there.
Often, when I think of the history of the gay rights movement, only of a few select big-name activists come to mind. It's easy to forget about all the people who didn't make the papers or have a movie made about their impact, and in so doing, we skip over the people who have put their neck on the line for our local communities, with little or no recognition in return. Part of the goal in creating Queer Heroes NW was to secure these brave souls a permanent spot in our queer history, and also to thank them for the work they have done to make us free and keep us free.
Over the years I have had many people touch my life in heroic ways. I was always picked on for being perceived as "girly" or "gay" growing up, and by the time I reached high school, the bullying was unbearable (like it is for many gay kids). I had one teacher who stepped into the role of queer hero #1 on the first day of my freshman year. His classroom instantly became a safe haven for me, and Read the rest of this entry »